HKSYU launches its interdisciplinary FinTech programme from September 2020
28-05-2020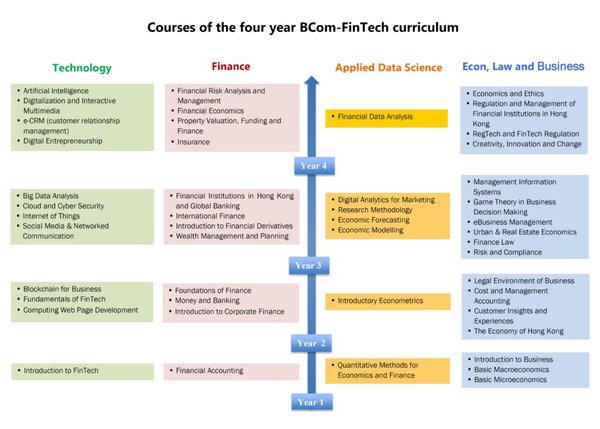 The new undergraduate programme, Bachelor of Commerce with Honours in Financial Technology (BCom-Fintech), launched by Hong Kong Shue Yan University (HKSYU) in this September focuses on finance, technology, applied data science as well as economics-law-business that makes it more interdisciplinary than any current Fintech programme offered locally, according to Dr. LEE Shu Kam, the Associate Head of the Department of Economics and Finance and one of the core initiator of the programme.
In an interview with Shue Yan Newsletter, Dr. LEE said financial technology, or in short FinTech, is not only already happening in retail banking payments, but also providing better financial services to the public. The financial services sector is also robustly making use of FinTech to increase the competitiveness of the Hong Kong financial services industry. The launching of the new BCom-FinTech programme, shows HKSYU's determination to meet the actual needs of Hong Kong society by training efficient young people for the community. This programme is managed by Department of Economics and Finance.
Shue Yan's BCom-FinTech programme focuses on four major areas: (1) finance, (2) technology, (3) applied data science, and (4) economics, law, and business. According to Dr. LEE, it is more interdisciplinary and more unique than the current FinTech undergraduate programmes offered by local universities. For example, the current FinTech programmes provided locally are either by the departments of computer science and engineering, focusing more on the technology aspect, or by the faculty of business administration, concentrating mainly on the business and technology side.
"We cover technology, data science, and finance, as well as economics, law and business. Our programme strikes a balance between the four major elements which are essential to graduates' future success in financial services and FinTech careers, and essential to pursuing postgraduate studies in financial technology and a broad spectrum of other disciplines, such as a Master of Business Administration, Master of Science in Finance, Master of Applied Information Technology, Master of Data Science, etc." Dr. LEE said.
The BCom-FinTech programme includes a series of core courses from the existing Bachelor of Arts (Honours) in Economics and Finance curriculum, with the tailor-made and specialist courses in FinTech developed for the programme and an array of electives from the other three departments of the Faculty of Commerce, namely, Department of Business Administration, Department of Law and Business, and Department of Accounting, and the Department of Journalism and Communication from the Faculty of Arts.
Two crucial "pillars" of the BCOM-Fintech programme are "technology" and "applied data science". Courses on technology include Artificial Intelligence (AI), Big Data Analysis, Blockchain for Business, Internet of Things (IoT), Cloud and Cyber Security, to name a few. While courses about data science include Financial Data Analysis, Digital Analytics for Marketing, Economic Forecasting, and Economic Modelling.
The other two "pillars" of the programme are "finance" and "economics, law and business". Courses under the discipline of finance include Financial Risk Analysis and Management, Property Valuation, Funding and Finance, Wealth Management and Planning, International Finance, etc. Within "economics, law and business", a wide variety of courses are offered such as Game Theory in Business Decision Making, Urban and Real Estate Economics, RegTech and FinTech Regulation, Economics and Ethics, Finance Law, eBusiness Management, and Customer Insights and Experiences, to name few.
According to Dr. LEE, the Department attaches great importance to ethical standard in FinTech. He said: "While technology creates opportunities, the potential of deception and manipulation is also great. We do hope our students will not only know how to use FinTech to innovate finance services, but also place great importance on the regulation of Fintech to avoid harm and to be an ethical practitioner in FinTech."
Compared to the University's current Bachelor of Arts with Honours in Economics and Financial programme, the BCom-FinTech provides more technology elements and more flexibility for students in course selection, according to Dr. LEE.
Students of the BCom-FinTech must complete a minimum 124 credits to be eligible for graduation. In line with all bachelor's degree programmes at HKSYU, the BCom-FinTech programme features compulsory language courses in English and Chinese and a 12-credit General Education component to develop the necessary language and critical thinking skills for students' future careers.
According to Dr. LEE, credit-bearing internships in FinTech companies, insurance, wealth management, and information technology companies will be arranged for students to offer them opportunities to apply their academic knowledge at work.
"This 3-credit local internship course emphasises hands-on experience practices in an authentic workplace for one semester. It encourages students to reflect on their performance and identify areas for self-improvement, through a co-supervision from an Academic Supervisor and a Workplace Supervisor. Students are able not only to explore their career goals but also to equip themselves with the competencies at work." Dr. LEE said.
Students may also join the non-credit bearing overseas internship offered by the ASEAN internship scheme. They can also apply for other competitive schemes such as the Internship Scheme for Hong Kong Students in Belgium, Italy, Germany and UK. To enhance the practical skills of students, a range of non-credit bearing workshops will be offered, including presentation skills, programme writing skills, and data analytics. Practitioners who work in FinTech and start-up companies will also be invited to share their everyday experiences at work to enrich students' understanding of the working environment outside the university.
Students who wish to broaden their level of expertise and enhance their prospects of future career development can study a Minor in another subject. The minimum credit requirement for a Minor is 15.
The BCom-FinTech programme aims to be in the designated "financial technology" sector of the Study Subsidy Scheme for Designated Professions/Sectors (SSSDP). Students enrolled under the SSSDP will receive a subsidy from the government of up to HK$42,800 per academic year.
The BCom-FinTech programme is at Level 5 of the Hong Kong Qualifications Framework (HKQF).